OA DR. OF MEDICINE UNIV. FLORIAN FRISEE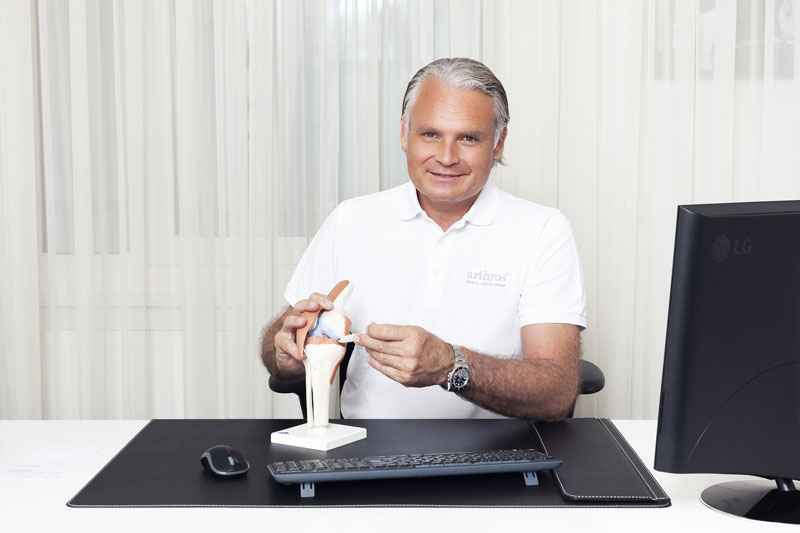 Trauma surgery and orthopaedics
Knee surgery, sports traumatology and sports medicine
Specialist in trauma surgery and sports traumatology
Specialist in orthopaedics and traumatology
Medical Director of Arthros Medical Center Vienna and the Knee Clinic
Publicly sworn and court-certified expert
Chief Medical Officer (CMO) of the FIA
DGSP diploma in Sports Medicine
Dr. Florian Frisee was a trauma surgeon and sports traumatologist at the Lorenz Böhler Hospital in Vienna from February 2004 to December 2015.
Thanks to his many years of experience as a member of the medical team responsible for the Austrian Men's National World Cup Skiing Team (ÖSV) and as a team doctor to the First Vienna Football Team, Dr. Frisee has ample experience in treating top-ranking athletes.
His patients now benefit from his experience in treating acute injury in top athletes.
Dr. Frisee has more than 20 years' experience in arthroscopy and has carried out thousands of surgical procedures.
Dr. Frisee also works as a publicly sworn and court-certified expert in Vienna.
4 eyes, 4 hands – surgical partnership OA Dr. Frisee, OA Dr. Spitaler
Swift, expert medical assistance in the event of injury or accident
Our team of trauma surgery and sports traumatology specialists work closely together to ensure patients are provided with coordinated treatment options for musculoskeletal injuries that can be treated on an outpatient basis.
The Arthros Medical Center Vienna has close ties with the radiology department at Döbling Private Hospital. This means that services such as X-rays, ultrasound, CT and MRI scans are available without delay, either privately or under the patient's health insurance scheme. This close collaboration allows us to make a swift and precise diagnosis of musculoskeletal problems.
The majority of injuries can be fully treated on site at the clinic, but if a particularly severe injury requires more major intervention, the patient is transferred to a suitable hospital.

Arthroscopy (knees, shoulders, ankles)
Knee injuries: meniscus, cartilage, cruciate ligament (BTB, STG, Allocraft)
Cruciate ligament reconstruction (Allocraft)
Customized knee replacements
Acute and chronic sports injuries
Trauma surgery and acute orthopaedic care
Conservative and surgical treatment of bone fractures
Radial and focused shockwave therapy
Forefoot surgery (bunions, hammer toes)
Foot pressure measurement and provision of insoles
Sports medicine check-ups
Expert opinions
OA DR. OF MEDICINE UNIV. GUIDO WAHLER
Shoulder surgery, sports traumatology
Studied medicine in Vienna. Further specialization in trauma surgery, sports medicine, sports traumatology. Specialization as emergency doctor.
Head of the Department for Sports Medicine of the Vienna Medical Society and court sworn and certified expert.
Member of the International AO Faculty (consortium for questions on osteosynthesis), participant in numerous courses as an instructor and speaker in Austria and abroad.
The plethora of services offered encompasses the entire trauma surgery related spectrum, especially:
Diagnostics, consultation and treatment of acute injuries and degenerative alterations of the shoulder
Impingement syndrome
Lesions of the rotator cuff
Shoulder instability
Arthrosis
Ailments of the acromioclavicular joint (AC joint)
Arthroscopic (and open) shoulder surgery